Happy Mother's (Makuahine's) Day! Mother's Day / Graduation weekend has been a memorable one here on Oahu. (Happy Graduation to Jessica Bell-Blair as well, who just graduated from WVU law school this weekend!)
We decided to take Ryan to the North Shore on Saturday. It was in a word, AWESOME! We started our trip with some Hawaii shaved Ice in the town of Haleiwa. Haleiwa is what Ryan thought Hawaii would be like: a small strip of road with some sleepy shops, a cute church covered with succulents and an old Ace Hardware with a wooden facade. I would love to live there, but the commute to the University would be too much for me. From there, we headed to the Pu'u o Mahuka Heiau. This is an old Hawaiian temple on the ridge at Waimea Bay where human sacrifices used to take place. I am currently reading James Michener's
Hawaii
which describes some of the traditions of old Hawaii. Burying people alive under rocks seemed to be a popular choice, along with poking out the eyes, pulling off the arms, and then offering the still-living slave or captured Westerners on the alter. Ouch.
Just across the road from the ruins lies Shark's Cove. In the summer, this little cove is a haven for snorkeling. Crystal clear Shark's Cove was full of people, but it didn't keep the turtles from coming in and swimming with us (photo by Ryan on the underwater Kodak camera). Here is Ryan plunging into the depths:
After we snorkeled for about 3 hours or so, we were famished. Good thing that just around the corner, on the Northern most point of the island is Kahuku, which is famous for its shrimp trucks and shacks, not to mention the fresh fruit stands in which we purchased pre-cut pineapple, coconut, mango, and guava. The shrimp stands are like Mexican hot dog stands of South Tucson: good, good food, and super, super cheap. We had what was probably my favorite meal in Hawaii thus far: Coconut, garlic-butter, and hot and spicy shrimp, with rice, salad, and sweet Kahuku grown corn, all for $39. Top it off with a Sam Adams Summer Ale and it was heaven.
Our stomachs full, we continued to drive around the island, taking in the beautiful beaches on the Windward side of the island. As the sun began to set, we started back to Honolulu via the
H-3
(see also this
page
), which is an engineers' dream. Here is a photo, courtesy of the linked website: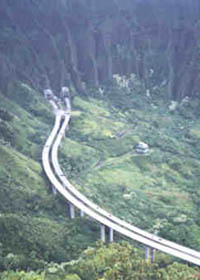 The twin viaducts run for miles, and then enter the tunnels, which go almost a mile through the mountain. The road hits the land only after about 3 more miles on the other side. The road was apparently built to link the Kaneohe military base to Pearl Harbor, and the tunnels are big enough to run tanks through. It truly is an amazing road.
We came out of the tunnels and watched the sun go down. A perfect ending to a perfect day. Today was pretty awesome too, but I will wait until tomorrow to tell that tale.